Swami Tapovan Maharaj
Pujya Swami Tapovan Maharaj
was the very embodiment of the ideals of sannyāsa, endowed with supreme renunciation, deep wisdom, saintliness, austerity, and compassion, a true virakta mahātma. Swamiji was born in 1886, in the village of Mudappalur in Palghat district to Balamba and Achutan Nair. His parents named him Subramanyan, but they lovingly called him Chippu Kutty. After the untimely death of his father, Swamiji left his home at the age of 28 to heed the call of the divine, eventually taking up residence in a one-room thatched hut in Uttarkashi, which came to be known as Tapovan Kutir. It was here that Gurudev sat at the feet of the great master for a total of seven years absorbing Vedantic knowledge. Swamiji attained mahāsamādhi on the 16th of January 1957 on the full moon day; in the Brahma-muhūrta at 4:30 a.m. "He came from nowhere, existed everywhere, and ultimately went to be everywhere."
---
Swami Chinmayananda
Swami Chinmayananda (Pujya Gurudev)
is the founding Father of Chinmaya Mission, World-wide. He was one of the world's foremost Vedantic scholar and one of India's most respected spiritual leaders. A gifted speaker, Swami Chinmayananda built an intense rapport with his audiences and communicated the teachings with vibrancy and wit. He taught Hindu philosophy in its most ancient and purest form, Vedanta, as it has been passed on from teacher to student since time immemorial. Swami Chinmayananda was born in Ernakulam in Kerala, South India, in May 1916. He began his study of Vedanta as a skeptical journalist, bringing with him the secular knowledge gained through degrees in science, literature, and law. After spending many years in the Himalayas under the tutelage of Swami Sivananda and Swami Tapovanam, he started spreading the joyous vision of Vedanta, which was shrouded in rituals, secrecy and Sanskrit, to the inquiring men and women around the world. Swamiji established Centers for Learning called Sandeepanys in several locations in India. Young aspirants who received the call to devote their lives to the study of Vedanta, received intensive education in the scriptural studies while living a highly disciplined life. The students who graduated from these institutions as Brahmachari-s and Brahmacharini-s went into the world to spread the knowledge to all seekers. Some students received sannyasa (order of monks) from Gurudev. Thus over 200 teachers were trained to teach Vedanta in India and abroad. He had also established schools, colleges, Hari Har Schools for the underprivileged, old-age homes for the senior citizens, hospitals, clinics, temples, community outreach programs, in Sidhabari in the Himalayas, to name a few of the social upliftment programs. All these programs are continuing to this day, directed and guided by his students under the leadership of
Swami Tejomayananda
.
---
Swami Tejomayananda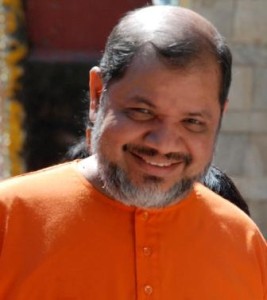 Swami Tejomayananda (Pujya Guruji)
stands out as a teacher who is eloquent yet humble, putting into practice what he teaches as the right way of living. The spiritual call came to him in 1970 when he heard a Geeta discourse given by Swami Chinmayananda. He was inspired to join the Vedanta Course at Sandeepany Sadhanalaya in Bombay. On graduating as Brahmachari Vivek Chaitanya, he served the cause in the field for a few years. Then he was posted at Sandeepany Himalayas as Acharya and conducted a Brahmachari Training Course in Hindi. In 1983, he was initiated into Sannyasa by Pujya Gurudev and came to be known as Swami Tejomayananda. Swamiji has conducted over 200 yajnas in English, Hindi and Marathi. He has written commentaries on a few Vedanta text books and translated Gurudev's writings to Hindi. He trained two groups of resident students at Sandeepany Mumbai between '84 and '88. He was assigned as Acharya to Sandeepany San Jose in 1988. While he was in San Jose, Swamiji toured all over the United States and Canada giving Yajna-s and camps. He also conducted Vedanta Courses covering all the major Upanishad-s, Bhagavad Geeta, Tulsi Ramayana and Srimad Bhagavatam. Pujya Gurudev attained Maha-samadhi on August 3rd, 1993. Swamiji was then appointed the Head of Chinmaya Mission. He has since enhanced all the programs Gurudev had set in motion. Gurudev's vision to start a residential school in India that combines the best of the East and the West, has been brought to fruition by Swamiji on June 6th, 1996, when the Chinmaya International Residential School opened in Coimbatore. Swamiji conducted the first Bhagavad Saptah in English in the United States. It was organized by Chinmaya Mission San Jose and held in San Francisco in August, 1997.
---
Swami Swaroopananda
Formerly the Regional Head of Chinmaya Mission Australia, United Kingdom, Middle East, Africa and Far East, and presently Chairman of the Chinmaya Vishwavidyapeeth Trust (University for Sanskrit and Indic Traditions) and Director of the Chinmaya International Residential School in Coimbatore, South India,
Swami Swaroopananda
has now been bestowed by Swami Tejomayananda the privilege to also serve as the Head of Chinmaya Mission Worldwide. Born and brought up in the bustling commercial capital of India, Swamiji had always been convinced that beyond life's superficial, everyday joys and sorrows, there was something more enduring and satisfying. As a child he heard from his grandmother many religious stories based on the great Indian epics and the history of saints. These stories suddenly came to life, acquiring new meaning and depth, when as an adolescent he encountered the preeminent Master of Vedanta, Swami Chinmayananda. His heart completely moved and inspired, in 1984 Swami Swaroopananda gave up his family's thriving business in Hong Kong to undergo intensive training under Swami Chinmayananda and Swami Tejomayananda at Sandeepany, Mumbai. He was initiated into the monastic order in 1992. Since then, he has touched thousands of lives across the world, and his tremendous work in bringing out the essential wisdom and underlying unity of all religions has garnered him a place among the vanguards of self-development philosophy.
---
Swami Ishwarananda is the resident senior monk at Chinmaya Mission Los Angeles. An accomplished master of Vedanta philosophy, Swamiji explains the universality of spiritual teachings in a simplified manner for audiences to grasp and for seekers to implement teachings in day-to-day living. Several companies, universities, and inter-faith consortiums routinely reach out to Swamiji for delivering talks to their employees, students, and congregations. Swamiji is presently one of the Directors of Chinmaya Mission West (CMW) which oversees the activities in North America. Previously, Swamiji was part of Chinmaya Mission Bangalore where he served as the secretary.
Inspired by Gurudev Swami Chinmayananda and with the guidance of Swami Brahmananda, Swamiiji left his field of software consultancy and joined Sandeepany Sadhanalaya in Mumbai in 1991. Upon completing his Brahmachari training in 1993, as Brahmachari Someshwar Chaitanya, he served Chinmaya Mission Centers in Bangalore and Calcutta and eventually became resident Acharya of Chinmaya Mission Los Angeles. In March of 2000, he was given
sanyas deeksha
 by Pujya Guruji Swami Tejomayananda and was named Swami Ishwarananda. Swamiji served the mission in Los Angeles until 2001. Swamiji was then made the Acharya in charge of Sandeepany Sadhanalaya in Mumbai for the 12th Brahmachari batch from 2002 through 2004, thereafter returning to Los Angeles. Swamiji is a dynamic speaker; has given talks on Vedanta, stress management, management techniques, and other such related fields; and has also authored many books. We are fortunate to have Swamiji come once a month to the Sunday Vedanta Study Group via zoom video conferencing.