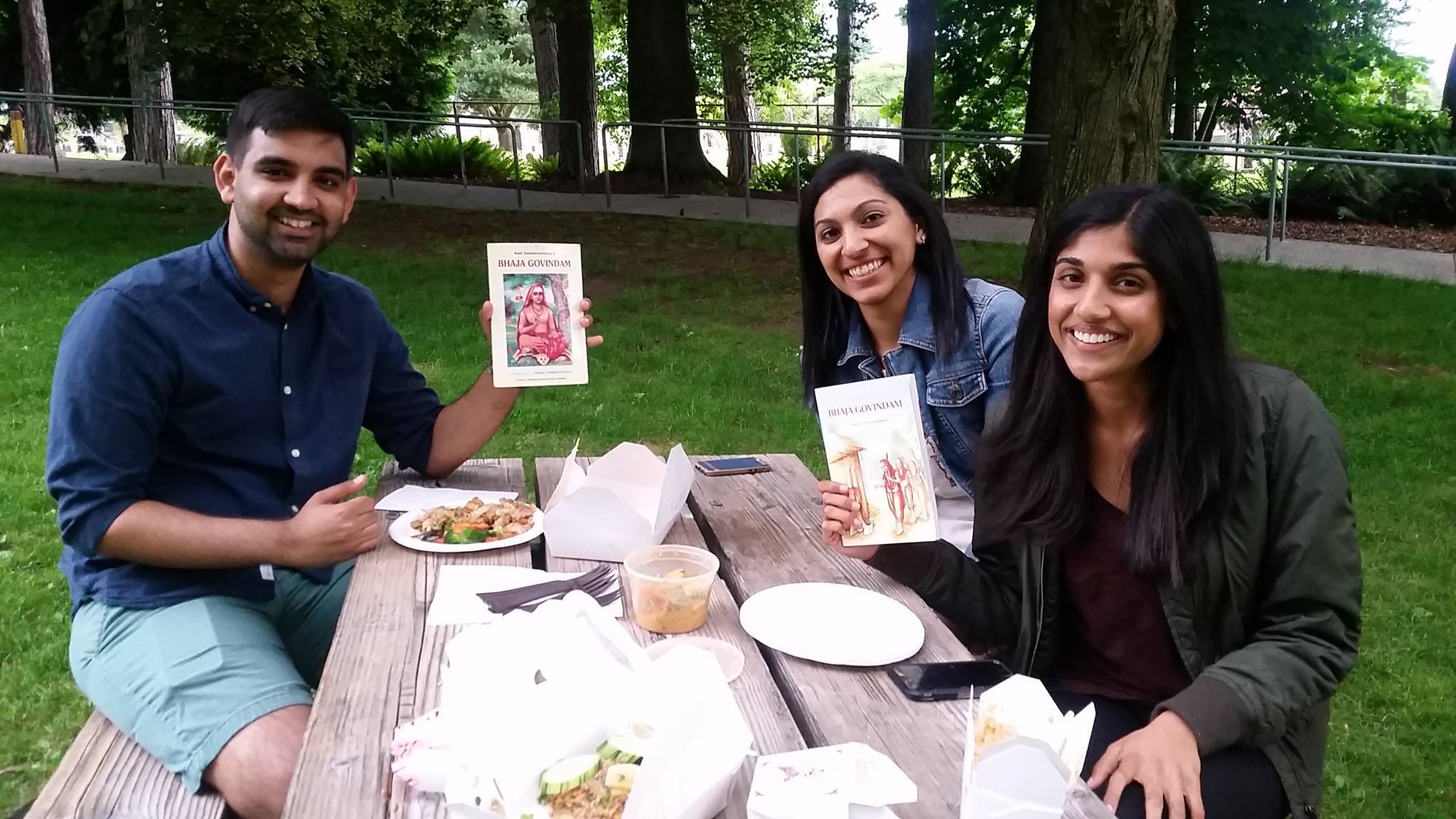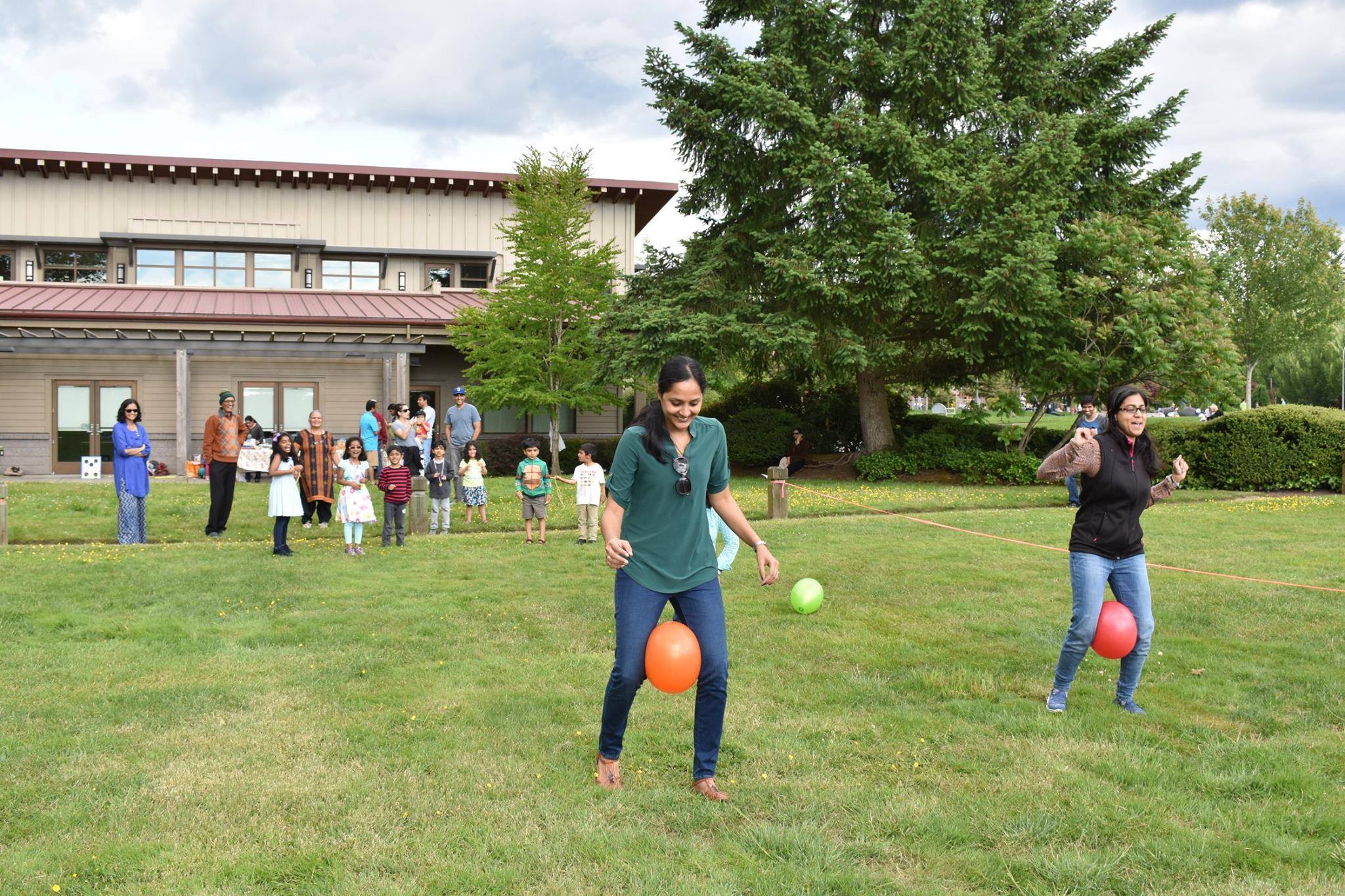 Tapovanji Maharaj and Gurudev
---
Bala Vihar Open House
Come check us out on the 28th of Jan 2018 during "Open House"!! 3:00 PM – 4:30 PM
90 min Bala Vihar Classes (half hour assembly followed by one hour class) are based on a specifically laddered, dynamic curriculum with the aim of accomplishing the Bala Vihar rationale set forth by Swami Chinmayananda:
* To instill in our children a reverence for our ancient culture, and inspire them to live up to it with correct understanding
* To create self-confidence that will enable them to serve and act cheerfully
* To include personal discipline, dynamic leadership, and true affection in all contacts
* To mold their capacity to brilliantly express their individuality
* To bring out their dormant faculties and detect defects, and to cultivate and improve their creative abilities
* To help our children develop a healthy resistance against temptations in the atmosphere in which they grow
* To provide an atmosphere that will enable our children to grow with noble ideals, healthy emotions, and physical discipline.
Facebook Event: https://www.facebook.com/events/396914910773705/
---
From Swara to Ishwara – "Swaranjali" Inauguration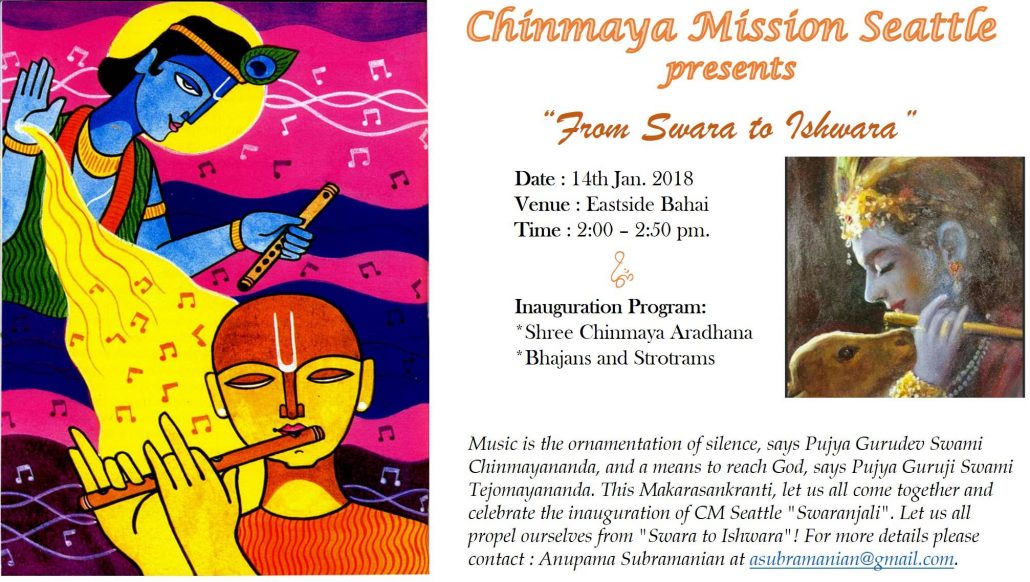 Music is the ornamentation of silence, says Gurudev Swami Chinmayananda, and a means to reach God, says Guruji Swami Tejomayananda. This Makarasankranti, let us all come together and celebrate the inauguration of CM Seattle "Swaranjali". Let us all propel ourselves from "Swara to Ishwara"!
Date: 14th Jan
Time: 2:00 – 2:50 pm
Venue: Eastside Bahai
Program
* Shree Chinmaya Ashtottara Shatanamavali Aradhana
* Bhajans and Stotrams
For more details please contact : Anupama Subramanian at asubramanian@gmail.com
Facebook Event: https://www.facebook.com/events/1495378907182201/
---
MahaSamadhi Camp 2018
Pujya Gurudev Swami Chinmayananda Saraswati, the greatest Missionary and Visionary of our times, left His bodily form in San Diego on August 3, 1993 at 5:45 PM.
Each Year, Chinmaya Mission Worldwide observes this Holy Day as Chinmaya Ārādhanā Day honoring His Life and Legacy.
Chinmaya Mission San Diego is extremely privileged to host the 25th anniversary of this significant event with a six-day family camp in the very land that He left His mortal coil.
HomePage: https://msc2018.chinmayajyoti.org/
Program Details: https://msc2018.chinmayajyoti.org/program/
---
Tattvabodha
Join us on the 14th of Jan 2018 for the first session of Adi Shankaracharyaji's Prakarana Grantha "Tattva Bodha". This is an introductory text which expounds the essence of Vedanta and its terminology in a simple question-answer style, thus becoming a foundation text for our Vedantic pursuits.
Date – Jan 14th 2018 (Session 1)
Venue – Carrington Apartments, Bellevue, WA.
Itinerary :
6:00am – 6:15am – Chanting and prayers
6:15am – 7:00am – Tattvabodha Talk
7:00am – 7:15am – Q&A
We will have a rerun of each Sunday session the following Wednesday evening (7:00 pm-8:15 pm) at the same venue. E-mail Subarna Ghosh – subarnaghosh@chinmayamission.org for more details.
Facebook Event: https://www.facebook.com/events/394236617663204/
---
Bhagavad Geeta for Adults
Join us every Sunday at 3:30 pm after General Assembly (parallel to BalaVihar for kids) to study the Bhagavad Geeta Chapter by Chapter, for better clarity and understanding of life. The Bhagavad Geeta is often called as the "Ashoka Upanishad" (that Upanishad which removes all sorrows) is thus the perfect GPS for a successful, fulfilled and happy life!
Let us all "Learn the Geeta and Live the Geeta"!
Chap. 1 : Session 2
Date : 14th Jan. 2018
Venue : Eastside Bahai
Time : 3:30 – 4:30 pm.
Please email subarnaghosh@chinmayamission.org for more details!
Facebook Event: https://www.facebook.com/events/180044832587988/
---